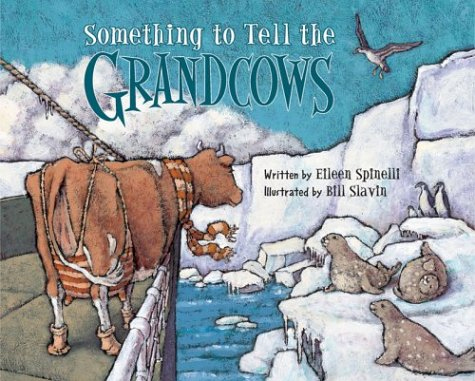 Something to Tell the Grandcows


PreS-Gr. 2. Everybody wants to have at least one great adventure to trot out when company comes to call. Everybody--even cows. After Emmadine the cow decides that chasing crows from the barn and swatting horseflies isn't exciting enough to tell to her grandcows, she signs up to go to the South Pole with Admiral Richard E. Byrd. What happens then provides plenty of grist for generations to come. This humorous tale is a delightful and creative way to introduce a historic event to very young children. Kids are treated to an engaging introduction to a momentous expedition as they learn a bit about the geography and environment of the South Pole. The story will help children better appreciate historical books, and the fine illustrations will help. The art is both well executed and funny, whether picturing Emmadine contemplating the farmer and his kids in a richly detailed barn scene or decked out for winter in a striped "uddermuff" and hoof socks.

Terry Glover Copyright © American Library Association.